Undeniable - Central Florida Stories Book 2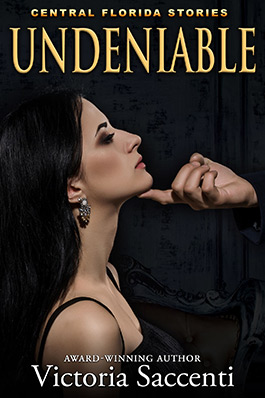 Their hearts will never forget ... But the approaching danger may take away their forever.
Possessing vital information that could bring down a crime cartel, Arely Bernal flees to Orlando, taking a job as far under the radar as she can get—bartending at a BDSM club. Where she encounters the man she's never forgotten.
Wracked with post-Afghanistan PTSD, Kurt Allendorf limps through his days, barely taking an interest in his Club Nexus anymore. Until he's stunned to spot a face he hasn't seen in twelve years. Arely has grown into a seductive beauty who awakens his inner Dom like no other woman, ever. But he's too broken to be worthy of her trust, much less her submission.
When the danger Arely's running from tracks her down, there's no place safe to hide. And both Arely and Kurt will have to rise above their demons to survive…
Standalone. Strictly 18+
"She'd loved him without conditions. He'd stolen her heart. She didn't want it back, even if their paths never crossed again." Arely Bernal, Undeniable