Destiny's Way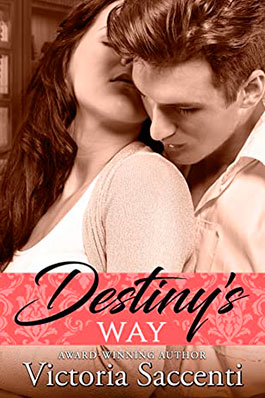 Destiny can show the way home ...If it can navigate the shadows of fate.
Brian McKay's love for Marité Muro burns with the heat of an eternal flame. But when he catches her cousin, Michael, forcing an unwanted kiss upon her, Brian's jealousy comes dangerously close to flaring out of control.
In a moment of despair, he packs his bags and boards a plane for Round Rock, convinced Marité will be better off with anyone else. Someone younger. Someone who isn't dragging around a crippling load of baggage—and PTSD-fueled demons.
Anger tears at Marité's heart as she flees to her Abuela's home. Anger at Brian for abandoning her so easily. At Michael for trying to reignite their past infatuation. Mostly, anger at herself for realizing too late that it's past time to grow up, take responsibility for her own part in the debacle, and fight for the only man she'll ever love.
But Fate has a few more tricks to play before Brian and Marité find the strength to reconcile. Some that haunt Brian's war-torn mind. Another threatening from Michael's dangerous ambitions. And one tiny, fragile miracle growing under Marité's heart, with the power to heal their past and seal their future. If it lives long enough to draw its first breath…
"Destiny's Way is the third book in Destiny's Series by Victoria Saccenti, an absorbing contemporary romance that will provoke the most compelling and powerful emotions in readers."
~ Christian Sia for Readers' Favorite
"This final installment of the series, Destiny's Way, culminates the series with a resounding five stars."
~ Goodreads Reviewer
"Once again, Ms. Saccenti has brought her characters to life–each word chiseled to describe three-dimensional people who suffer palpable anguish, regret, and confusion–people who are misguided, lost, or perhaps too proud."
~ Nighean Dubh
"I give 5 stars to this author on all three books in the Destiny series. Destiny's Way is a brilliant, heart wrenching, and exhilarating read."
~ Amazon Reviewer