Destiny's Plan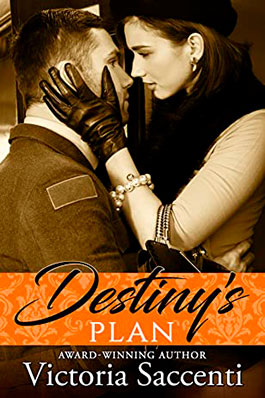 An empty seat and a love that can withstand the trials of fate.
When Raquelita Muro takes the empty seat on the bus to avoid sitting beside her mother, she doesn't expect to find the love of her life. But as the hours pass by on the journey from Texas to Florida, Raquelita knows that Matthew Buchanan is the one for her. Except fate, the US Military, and an interfering mother stand between the young lovers and their destiny. Exchanging letters in secret is their only hope as Matthew ships off to Vietnam and Raquelita and her family make a new life for themselves in Florida. And when tragedy strikes they will each be brought to the edge of what they can survive.
The course of true love never did run smooth, but will Matthew and Raquelita find each other again when half a world and an ocean of pain stands between them?
"An innocent tale of love at first sight takes a serious twist as war looms. Victoria Saccenti has created a charming and naïve heroine in Lita, who learns the harsh lessons of the real world and grows up through the readers' eyes. The Hispanic culture is vividly presented with lively characters that make up Lita's family…"
~ K.C. Finn for Readers' Favorite
"Destiny's Plan by Victoria Saccenti is a classic Romance novel, beautifully written and realized by this obviously talented author."
~ Michael Lynes, Goodreads
"Destiny's Plan by Victoria Saccenti was a phenomenal book. It's interlaced with history that adds to the drama and poignancy that I always gravitate toward when finding a good book to read."
~ Itsy Bitsy Book Bits.
"Destiny's Plan by Victoria Saccenti will whisper to your heart and soul."
~ Amazon customer