The Last Danann — Titanian Chronicles Book 3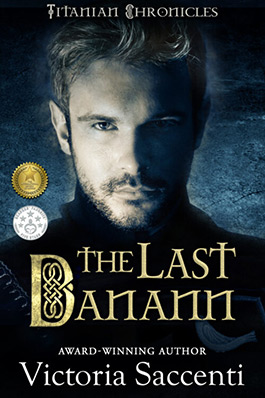 He struck a devil's bargain to save his people. Now he must risk more to save his love.
In exchange for his people's safe passage into Tir na nÓg, Kailen pledged his sword to the Titanians to defeat the daemon horde. A thousand years later, the grief of his losses heavy, Kailen has sworn that while his body is open to carnal pleasures, his heart is closed to love.
Even when it comes to a Druid-trained healer of mysterious origins who serves in the house of Soren, the greatest Titanian warrior. Talaith. This lavender-eyed beauty is his one gentle memory out of centuries drenched in blood.
Not long ago, Talaith willingly lent her powers—such as they are—as Kailen raced to save Soren's life. Otherwise, she fiercely hides the heart she lost long ago to the lonely, taciturn Tuatha Dé Danann warrior.
When Kailen and Talaith join forces to aid the Titanians against a renewed daemon attack, the walls between them crumble in fierce, emotional passion. But when death magic strikes, the price Kailen willingly pays to keep Talaith safe could tear them apart forever.