Destiny's Choice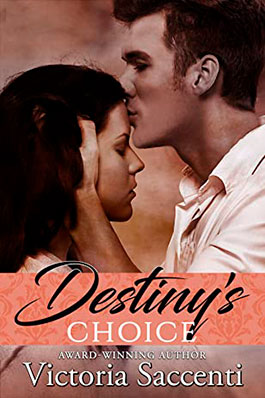 No one evades fate. Especially when the escape route is cracked and full of holes.
As a naïve young woman, Marité Muro nearly drowned in a maelstrom of confusing emotions stirred by two very different men. One whose tortured soul tugged at her heart, another whose scorching touch made her innocent body want…more.
Four years in a Spanish prep school gave her time to gain perspective, and now she's come home to Florida knowing what she wants. The one man she's never been able to forget, and she's ready to prove their age difference is no obstacle.
Vietnam left scars on Brian MacKay, some visible, some invisible—and infinitely more dangerous. His war buddy's sister-in-law has ripened into a tempting, irresistible woman, but she is forbidden fruit. Yet she challenges his resolve until, in a moment of weakness, his demons slip free.
Marité isn't sure why the man who held her closer than skin is suddenly holding her at arm's length, but she isn't afraid to fight for him. Even when someone returns from the past who could destroy everything. Her home. Her family. And Brian's love.
"This really deserves more than 5 stars. The book takes us into a family full of real people in a culture that may not be understood by everyone. The sincerity & depth of each character, regardless of age, is fantastic. Definite MUST READ."
~ Amazon Reviewer
"Destiny's Choice is Book 2 in the Destiny's Series by Victoria Saccenti, a riveting tale of a love that is as powerful as it is dangerous.You'll love Destiny's Choice if you're into romance and if you love the kind of setting that mimics the world of Eden, with a serpent tugging at the hem of your clothes and a forbidden fruit that is infinitely inviting. Victoria Saccenti creates beautiful characters and tactfully draws readers into their minds through her powerful and vivid descriptions."
~ Arya Fomonyuy for Readers' Favorite
"Great Read. Engaging, intriguing and very interesting story! Well written story with strong characters."
~ Hidden Gems Reviewer
"A UNIQUELY FASCINATING STORY. With this wonderful story author Victoria Saccenti has given me hours of reading pleasure."
~ Amazon Reviewer